Slow down, let go, float off on a daydream. Let us transport you to precious moments and enchanting places. Enjoy soulful acoustic guitar music with a Flamenco touch accompanied by spectacular videos and entertaining stories from the heart of Andalucia.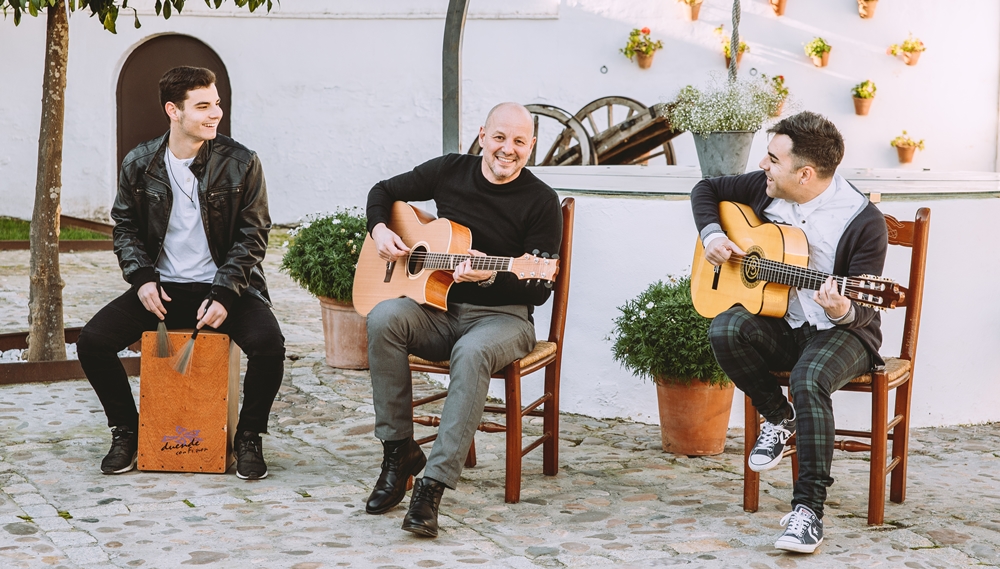 Finally Bernd Voss, the German guitar player now living in Spain, presents his first Acoustic Guitar Album.
The man from Bremen who after studying in Bremen and Hamburg moved to LA to broaden his musical horizons and having lived and played in various other countries ended up in Seville, Spain to immerse in the New Flamenco Scene.
That´s why his acoustic guitar style blends his early influences coming from James Taylor, Eric Clapton and Pat Metheny among others, with elements he picked up by playing with some of the best modern flamenco guitar players like Jose Antonio Rodriguez, Manolo Franco and Niño de Pura.
Having already recorded some acoustic guitar songs on his former Cds "Cravings" and "Siesta en Sevilla" he finally thought it was time to record an all acoustic guitar album.
"En Tus Casas" is more than just another acoustic guitar album. It is a declaration of love to Andalucia and its people by Bernd Voss, German guitar player, resident in Seville since more than 2 decades. His emotional playing which sometimes makes you feel as if the instrument is singing to you has been translated by the andalusian poet Jesús Dominguez to poems about this wonderful landscape and its inhabitants. You can read the poems in Spanish HERE.
Hear some examples HERE
See Videos HERE

Respira profundamente, relaja y escapa a un ensueño. Dejanos llevarte a preciosos momentos y sitios encantadores. Disfruta de música de guitarra acústica con alma con un toque de Flamenco, acompañada de videos espectaculares y historias entretenidas sobre el corazon de Andalucía. 
Por fin Bernd Voss, guitarrista Alemán con actual residencia en Sevilla, presenta su primer album de guitarra acústica.
Nacido en Bremen (Alemania) emprendió después de estudiar en los conservatorios de su ciudad natal y Hamburgo un viaje que empezó en Los Angeles (California), para ampliar su horizonte musical, y pasando por varios paises terminó en Sevilla, para vivir de cerca las nuevas tendencias del flamenco y la música latina.
Por esto su estilo en la guitarra acústica funde sus influencias tempranas de guitarristas como James Taylor, Eric Clapton o Pat Metheny con elementos que iba incorporando en su vocabulario tocando con guitarristas flamencos como Jose Antonio Rodriguez o Niño de Pura y acompañando a artistas como Miguel Rios o Manuel Carrasco.
Aunque ya había grabado canciones en "acústico" en sus anteriores discos "Cravings" y "Siesta en Sevilla" pensaba que era hora de grabar un disco enteramente de guitarra acústica.
Pero "En Tus Casas" es más que un álbum de canciones de guitarra acústica.
Es una declaración de amor a Andalucía y su gente. Los sentimentos que Bernd Voss expresa con su emocional forma de tocar que a veces parece que el instrumento te canta han sido traducidos por el poeta andaluz Jesus Dominguez a poemas que rinden homenaje a esta maravillosa tierra y su gente.
CONTACTO:
 +34 669439093